Water Heater Installation
Is it time to get a new water heater? If you're out of hot water, you need more hot water than your current heater can provide, or you're looking to get a tankless water heater installation, call us at Emerald Heating & Cooling today.
Our experienced plumbers will help you choose the very best water heater for you. Then we'll perform your water heater installation according to manufacturer standards so you can be absolutely sure your new heater will do its job for a long time.
Should I Get a New Water Heater?
Not sure if it's time for a new water heater installation? One of our plumbers can come take a look and help you make a wise decision for your home and your family. In general, we might suggest a new water heater if: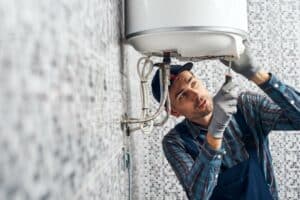 Your current water heater is more than 10 years old and is struggling or needs expensive repairs.
You don't have enough hot water to meet all of your needs.
Your water heater needs extensive repairs or shows signs that it will break again soon.
You want a different kind of water heater than what is currently installed in your home.
You have been calling us frequently for water heater repair.
Water Heater Installation with Emerald Heating & Cooling
Choose your new water heater and our water heater installation service professionals will put it in for you fast. We'll test each part as we go, making sure that everything is working the way it was designed to. We'll also test the whole thing when we've finished so we can be sure you're getting the hot water you need.
Tankless Hot Water Heater Installation
Are you interested in tankless water heater installation in your home? These water heaters may be more expensive upfront but they take up less space and they don't store hot water. Depending on the setup in your home, you may experience significant energy savings by installing one of these.
Our tankless water heater installation experts can let you know if one of these would work well in your home. They can also tell you what it would take to get it up and running for you. If you decide to move forward with the project, they'll work with you to get it completed quickly.
Call the water heater installation experts at Emerald Heating & Cooling whenever you're thinking about getting a new water heater. We'll get you the perfect one and put it in fast!