Proper filtration of the air in the home, as well as incoming air from ventilation, is key to removing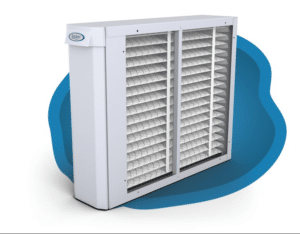 particulates from the air.
According to the United States National Library of Medicine of the National Institutes of Health, coronavirus particles average 0.13 microns in size, and most airborne viruses range from 0.03 to 0.3 microns.
Aprilaire MERV 16 Allergy Lamp; Asthma Filters provide the highest rate of effectiveness, capturing up to 96%* of airborne particles the size of viruses. When used in Aprilaire Air Cleaners, these filters feature Self-Seal Technology, which minimizes the amount of air bypassing the filter.
*Contaminants removed based on air passing through the filtering system