Furnace Maintenance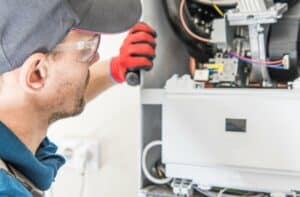 It gets cold in Depew, and the surrounding areas, and we know that you need your furnace to work well through the long winter. One of the best ways to keep your heat on all winter long is to get a furnace tune-up before the cold rolls in. That way, you'll know that your furnace is running well and isn't likely to quit on you this year.
What is a Furnace Tune-Up?
When we come out to tune up your furnace, we'll examine the furnace and all of its component parts. We'll make sure that everything is running well and operating as it should. Where necessary, we'll check to make sure the furnace is pulling the right amount of electricity and using it effectively. Our technician will clean anything that is dusty or dirty, to make sure your furnace can suck in air easily and isn't being overworked. We'll also change your furnace filter and make sure your thermostat is working effectively.
Once we're done, we'll report our findings to you. We'll let you know if you need to have any further work done on your furnace and what you can expect if you do. We'll also teach you what to look for in your own furnace, so you can keep it running well for as long as possible.
When Do I Need Furnace Maintenance?
Many homeowners don't know the signs that it's time for a furnace tune-up. Pay attention to these things, and you'll usually be able to get it serviced before you suffer a major breakdown.
It's been more than a year since your last furnace service, or you don't know when furnace maintenance was last performed. It's a good idea to have your furnace looked at twice a year: before you turn it on for the season and after you turn it off. If it's been more than a year, it's time for maintenance and a tune-up.
Your furnace isn't working as effectively as you would like. Maybe you've had your unit on already or you remember this from last year. Either way, if your furnace has suffered a loss of effectiveness, it's time to have a professional look at it.
Your furnace makes unusual noises when it runs. Furnaces can be loud, but they shouldn't make any unusual noises. If they do, get a professional out fast to figure out what's going wrong and see if cleaning it out helps.
Here at Emerald Heating & Cooling, we have HVAC technicians who can come to your home quickly to get your furnace tune-up out of the way. Our techs love what they do, and they know that keeping you and your family warm all winter long is a priority. They will treat your home as if it was their own and do exactly the work that they do on their own furnaces.
When it's time for furnace maintenance or a tune-up, think Emerald Heating & Cooling first. We would love to get a chance to show you why so many people in Depew and the surrounding areas choose to work with us for all their furnace needs.